Multi-site management with Zesty headless CMS
Manage all of your websites, applications, event site and microsites in one intuitive dashboard. Our headless CMS multi-site feature gives brands the power to grow without limits.
What is multi-site management?
Whether you're looking to stand up an event site for your company, manage multiple companies under one parent brand, or create microsites, multi-site management gives you the ability to access and share content across multiple entities, all from one dashboard.
Large brands can ensure their sites are all following the same branding guidelines; agile companies can stand up microsites; entertainment companies can host multiple event sites per region. With headless multi-site management, the possibilities are endless.
Why choose one platform for multiple sites?
Lower operating costs
For companies managing multiple brands with multiple sites, housing them all under one roof will ultimately drive down costs. Consolidating to one system means fewer licenses, less time spent switching between platforms and ultimately more time and money saved. Plus, Zesty offers simple integrations with your favorite technology platforms so you don't have to sacrifice your current contracts.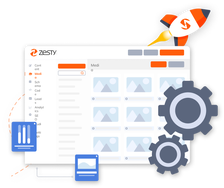 Faster publishing
Create once and publish anywhere. Our headless capabilities provide complex companies with an easier way to publish on multiple channels and sites. Zesty's unique ability to create headlessly and publish directly means fewer steps to get content live - an advantage for teams managing multiple sites.
Reduced employee workload
Zesty's headless CMS allows you to share content across sites and enforce brand guidelines, meaning your employees don't have to re-invent the wheel every time they want to publish something on a different site (and your brand managers can breathe easy knowing your brand is consistent across every site).
What you can do with a multi-tenant headless CMS
Zesty's multi-site management feature gives you the power to control all your sites seamlessly in one place. As a result, you can expect faster content delivery, brand consistency, and overall better performance of your websites.
Manage all your digital content in one place
Say goodbye to accessing endless platforms to handle your multiple sites and applications. Zesty provides you one space to house all of your sites, applications and digital content. With our user-friendly interface, headless capabilities and consolidated site and user management features, your team can continue to scale without limits.
Ramp up your content output
Spend less time managing sites across multiple platforms and more time focusing on producing leading content. With operations consolidated into one interface, your team can increase content production.
Repurpose your data and digital assets
Do you have content or media that's performing well on one of your sites? Maybe you want to integrate a shared calendar across all sites. Or maybe you need the same cart experience for each site. Zesty's headless capabilities allow you to leverage content from one site on any of your other sites or applications.
How to get started with multi-site management in Zesty
Use a headless CMS to create your management system
Zesty provides limitless options for companies looking to stand up and manage multiple sites. Our headless CMS gives you one platform to manage all sites, centralize content to deploy across sites, manage branding and publish content across sites instantly.
Organize and optimize your information
When you have multiple sites, it's easy for content to balloon to unmanageable proportions. Headless CMS gives you the ability to reuse relevant content across systems, so you can streamline your content creation, audit and ongoing management. Plus, since the backend is separate from the frontend presentation layer, you can adjust the content to match any styling differences across sites.
Map your priorities
Plan ahead to know what sites you need to build, how they will be integrated with each other (if at all), and what goals you want to achieve. Make sure you also know who will be assigned to which site, how to communicate with your headless CMS, and your timeline for completing each site.
Why Zesty?

Built-in staging & production
Build, preview, and publish your content all from one interface - no additional tools needed.
Robust digital asset management
Our visual digital asset management tool can house any digital file you need and optimizes images automatically.
Powerful integrations
Choose the tools that work best for you with integrations available in the Zesty Marketplace.
Enterprise-level security
Our platform boasts enterprise grade security. 1,000 question security questionnaires? Passed. Pen testing? No problem. Leave the security to us with our SOC 2 compliance.
Fully scalable
Zesty is built for scale, meaning there are no limits to how much your business can grow.

Automation at your fingertips
Zesty takes care of publishing, staging, SEO, sitemaps, RSS feeds, CSS/JS minification and CDN caching.

Easy infrastructure
Zesty.io leverages automated cloud infrastructure and managed Web Application Firewall (WAF)
User governance
Never worry about someone accidentally publishing content again. Manage teams, individual users, and their permissions on a granular level, down to the content piece.
Get your sites in line with Zesty
Organize and optimize all your sites using our multi-site management feature. Contact our team today to schedule a 30-minute demo and talk through your goals.
---